Conco Energy Solutions was founded 30 years ago and quickly identified a niche in the market for all kinds of substation protection & control solutions. Today it is one of the leading suppliers in substation protection and control solutions throughout Africa, including Zambia, Botswana, and Namibia, to name a few.
In 2018, Conco Energy Solutions began working on the Kangnas renewable energy project. The Kangnas Wind Farm is situated just outside of Springbok, in the Northern Cape's Nama Khoi Municipal area, and is rated to deliver 140MW's of clean renewable power from its sixty-one wind turbines during operation. The wind farm is in the final phase of being energized and will soon feed electricity back into South Africa's national electrical supply grid.
Not only will this project be beneficial in addressing the need for clean electricity in South Africa, but it will also positively impact the country's economy and people, with a particular focus on communities within a 50km radius of the wind farm.
Kangnas Wind Farm boasts an excellent wind resource and is ideally located close to the N7 national road, which assisted with delivery during the extensive wind turbine transportation programme. The site featured favorable construction conditions and the landscape is fairly flat. The turbines' generators are connected back to a collector substation at 33kV, where a step-up transformer is used to step the voltage to 132kV at the point of connection to the utility at Eskom's Kangnas distribution substation. The Kangnas DX substation then connects via a 132kV overhead line to the Groeipunt main transmission substation (MTS), where a 250MVA step transformer, steps the voltage for connection to the National grid at 220kV. Groeipunt is a new self-build Eskom TX substation tied into the existing Aggeneys – Nama 220kV overhead line.
It is expected that the Kangnas Wind Farm will generate around 513 200 MWh/year of clean renewable energy once operational. This is enough clean, green electricity to power up to 154,625 South African homes.Kangnas Wind Farm will eliminate approximately 550,000 tonnes of carbon emissions each year when compared to traditional fossil fuel power plants. In addition to zero carbon emissions and reduced use of fossil fuels, the country will benefit from almost zero water consumption during the generation process.
Building The Failsafe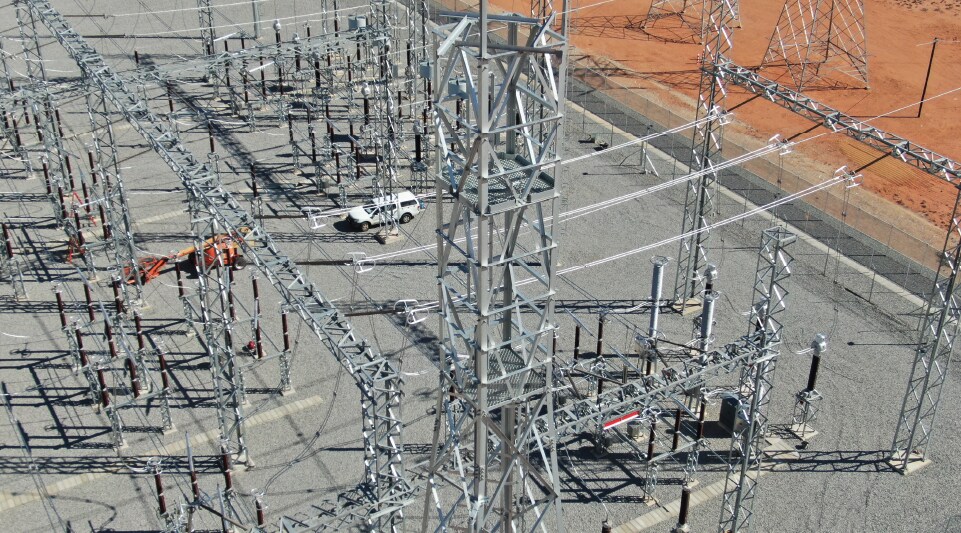 Groeipunt 220kV Switchyard
Designing the systems that manage the energy output from these 168m tall wind turbines is no easy feat. Renewable energy is a relatively new addition to the company's engineering resume, with the first wind farm project being Jeffreys Bay, South Africa in 2013.
Overseeing theConco design and drawing office is Heilandi Burger, the Drawing Office Supervisor. Mrs. Burger and her team work in conjunction with the Conco primary design department, who lay the groundwork for each new substation by designing the primary plant layout of the substation. Once handed over, the Energy Solutions team will get to work on the design for the automation and protection of the substation Conco is building.
"The systems we design offer protection and automation for an electrical substation," says Mrs. Burger. "It is a critical function that will safely shut down a substation should it start to overheat, or a fault is detected."
The Energy Solutions team design the automation and protection schemes that provide the 'brains' of the substation. These schemes typically consist of floor standing cubicles that house the intelligent electronic devices (IEDs) that perform either protection and/or automation functions. The protection IED functions operate to clear any electrical fault that may occur in the substation or on the overhead lines feeding to/from the substation. The automation equipment performs the function of providing control of the plant, while providing the required feedback to facilitate this control. This feedback comes in the form of Human Machine Interface (HMI) points, that are either localised on the cubicles or located in dedicated control rooms both on site and off site, such as the National control centre.
Engineering At Its Finest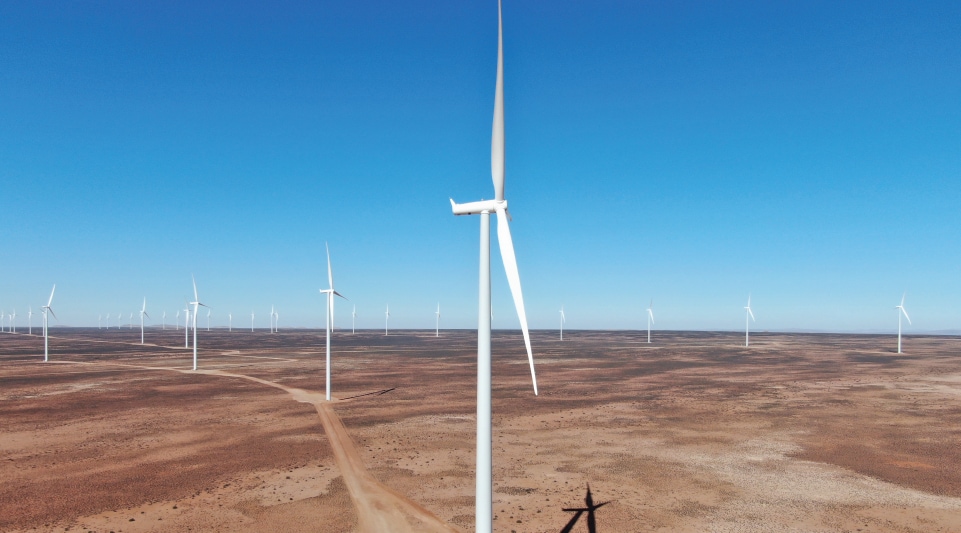 Typical Wind Turbine Structure
There is no room for error when building the control systems to ensure a substation's safe operation. Conco relies heavily on AutoCAD, Inventor and Vault to ensure that work is executed with meticulous precision. "We recently incorporated Inventor in our workflow to design our panels and to show our clients what their panels will look like in a 3D environment," says Mrs. Burger. "This gives them an in-depth and detailed look at our designs in a realistic environment." The design team at Energy Solutions also makes use of AutoCAD to design the layout of its communication diagrams to dictate which systems communicate with each other in the control room.
Managing The Data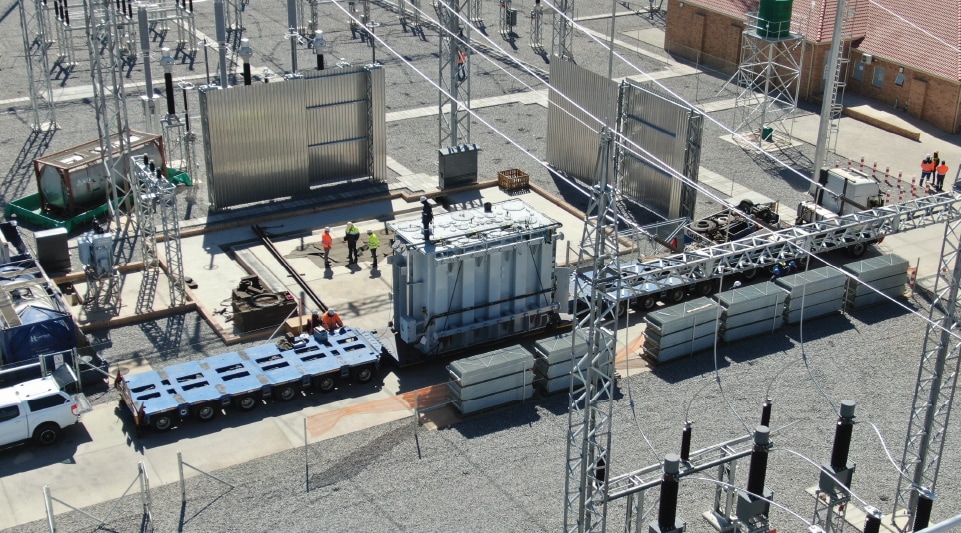 250MVA Transformer being off loaded at Groeipunt MTS
From time to time, the engineer who started on the project may not necessarily be the same person who finishes it. During the transition period where a new engineer is taking over the project a lot of time is lost to bring the new team member up to date."With Vault we can now look at a drawing and see at what stage the project is, so when an engineer takes over from someone else they can easily identify where to pick up. This is an important issue because our projects usually run over a few years," says Mrs. Burger.
Another challenge that Energy Solutions encounter, is when engineers search for substation drawings from legacy build projects that may have been completed many years earlier. These drawings are the only way that maintenance engineers can do maintenance and fault-finding as they were most likely not involved in the initial build and commissioning teams. Mrs. Burger says they have been working to digitize their old paper-based drawings to make them more accessible when needed in these situations. Historical archiving is made easily manageable.
The Moving Parts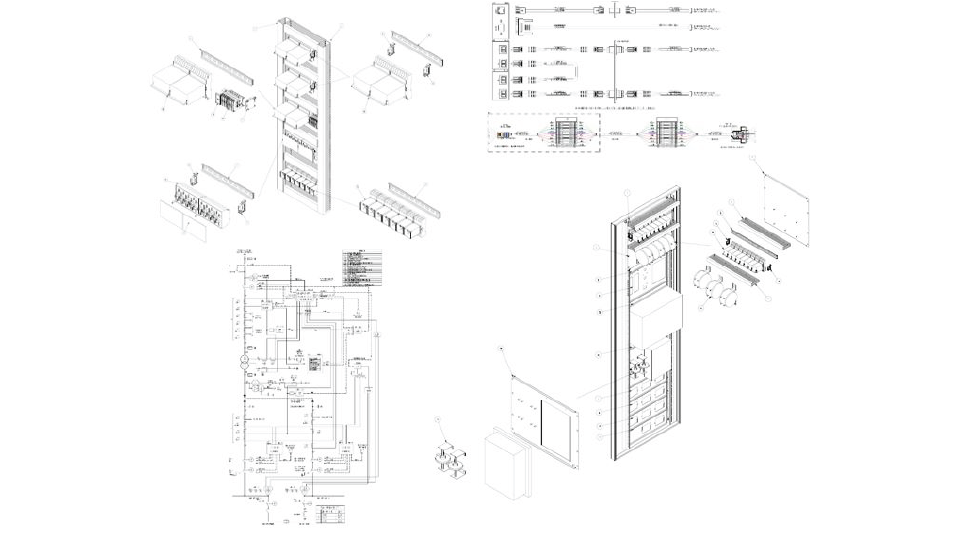 Typical 3D equipment layout drawing & 2D schematics
Because there are so many steps in the workflow from the design phase to implementation, Mrs. Burger deployed  Autodesk Life Cycles for the Kangas project. "This was the first project that we used Life Cycles and there were a lot fewer issues to deal with," says Mrs. Burger.
PLM provides enterprise-wide collaboration for all involved in the product lifecycle – from engineering and supply chain to quality and manufacturing. This allows everyone to work from a central source, allowing for more efficient teams and fewer errors within the designs. When relied upon to power approximately 155,000 homes, efficiency is the name of the game.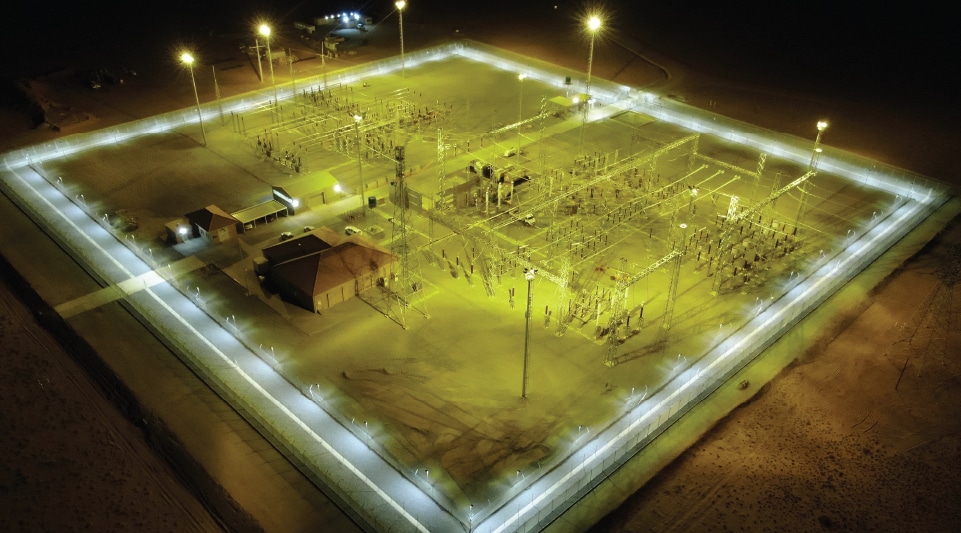 Night Lights – Groeipunt MTS